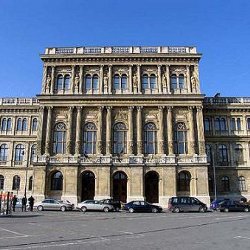 It is our honour to announce that the seventh World Science Forum will be held in Budapest from 4 to 7 November 2015. After the highly successful 2013 event in Rio de Janeiro the Forum will be hosted again by the Hungarian Academy of Sciences in partnership with UNESCO, ICSU, AAAS, TWAS and EASAC.
Encouraged by the success of the 1999 World Conference on Science and in the spirit of the Declaration issued by WCS, the Hungarian Academy of Sciences, in partnership with UNESCO and ICSU, initiated a series of events called World Science Forum taking place biennially in Budapest. In 2001 UNESCO assigned the day of the 10th of November to serve as "World Science Day", a day dedicated to science and scientists. Since then World Science Fora has been organised on and around the World Science Days of every second year focusing on issues of high relevance to the global community of scientists, policy makers and the innovative corporate sector. 
Now, following the convention of the Steering Committee of World Science Forum, we can proudly announce that the main theme of the 2015 Forum will be "The Enabling Power of Science" reflecting on the way how science opens new paths for the improvement of human life, business innovation and policy making.
more...
YEE CHEONG, Dato' Ir. Lee
Chairman of the International Science, Technology and Innovation Centre for South-South Cooperation

At its meeting of 4 November 2014 the Steering Committee of World Science Forum has agreed on the date and main theme of World Science Forum 2015. After the highly successful event of Rio de Janeiro in 2013 World Science Forum will return to Budapest on 4-7 November 2015. 
more

Rio2013 World Science Forum closing declaration commits to advance use of science for global sustainable development
more